Best Ways to Celebrate New Year in Istanbul
If you didn't choose a party program for the new year in Istanbul, this article probably helps you to choose one. There are a lot of party alternatives to do in Istanbul City. Some of them are; dinner cruise on Bosphorus, bar, clubs or traditional Turkish Night shows.
First Option – Dinner Cruise on Bosphorus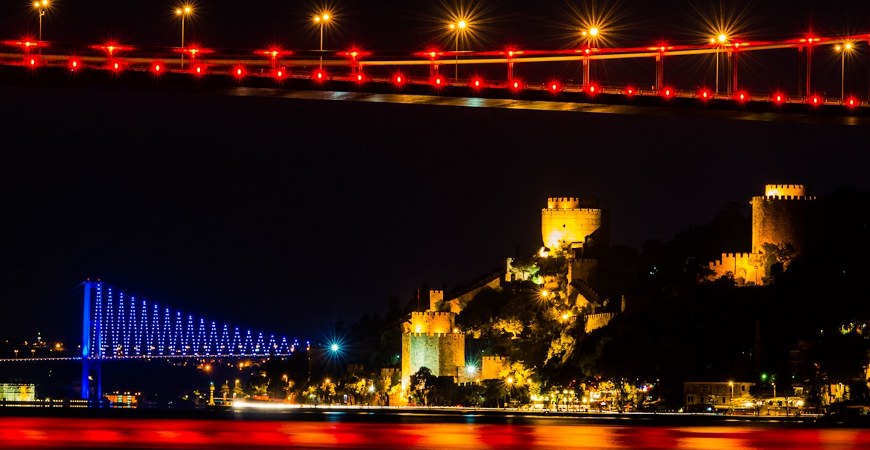 Istanbul is located on the two continents (Europe and Asia sides). If you did not see the Bosphorus Strait, we strongly suggest you join a Bosphorus cruise tour (It doesn't matter night cruise or day cruise, both of them are spectacular). There are old villages, palaces, old structures and more… After you see the shadow of the Istanbul, you will witness one of the best views on earth.
On the dinner cruise show program, you will have;
New Year Dinner Music while you are having your dinner
Mixed Anatolian Folk Dance
Folk Dance Performance from Black Sea Region
Cifteteli Performance belong to Thracian Region
Turkish Romany Dance Performance
Belly Dancing Show
Asuk and Masuk Show is performed by 2 male dancers (Belongs to Taseli district of Silifke)
Katibim Show A traditional Turkish melody musical performance.
Professional DJ Performance.
And the dinner will be;
Welcome Cocktail (Yellow Cheese, Green Olives, mixed nuts, crudites, cherry tomatoes, chips & sauce)
Cold Mezes
10 different kinds of Starters
Fresh Seasonal Turkish Salad
3 different kind of Hot Starters (Pastry made with feta cheese , Potato croquet, Chicken Panne)
New Year Dinner Course will be turkey with rice
Fruit or Dessert
Unlimited local alcoholic and soft drinks (selection of local wine, beers, vodka, raki, juice, tea, water..)
For more information please look at our tour, Istanbul New Year Party on the Bosphorus.
Second Option – Night Clubs
There are a lot of night clubs in Istanbul. You can choose your best club on our website. (New Year Clubs in Istanbul)
Here is some night clubs in Istanbul:
Anjelique Night Club & Restaurant
Tashan Arkat Restaurant & Night Club
Reina Restaurant & Night Club
Sortie Night Club & Restaurant
Nardiss Jazz Club Istanbul
Partie Music Club Istanbul
Masquerade Night Club
Roxy Club Taksim Istanbul
NuTeras Restaurant & Night Club
If you want to choose one of these programs, please let us know.
About erkan